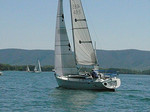 Sailing, fishing & much more... Our agents share insider tips for exploring the Lakes Region's recreation opportunities!
Lake Winnipesaukee draws avid sailors from the world over. Learn more about some of the area's sailing clubs and organizations.
You have the greatest lakes in the world here in New Hampshire--so to enjoy them you need to know where to go to get the lake experience going.
Fishing is a favorite outdoor activity in the Lake Winnipesaukee area. Local Realtor Jim Ferriman shares some insight into the appeal of Lakes Region fishing.
Vacationing in the Lakes Region this summer? Find out here how to get a New Hampshire temporary boating license.
The Lakes Region is a hotbed of antique boating activity. Find out how you can get involved, in the Lake Winnipesaukee area.